Today we teach you to create a mirror that shows the time and news with Raspberry pi
If you've always wanted to have an interactive mirror those that show the date, the calendar, the news of the day and the time that you make, now is the time. This project to create a mirror as well with Raspberry Pi is so simple, you only need to write a line of code
The project is the latest version of the magazine MagicMirror MagPi. In its paper version, the magazine reviews all the details needed to build the mirror. How to all devices of this type, you need a monitor to be covered with a mirror.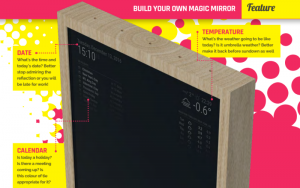 The tutorial explains everything from how to cover the monitor with a wooden frame nice to how to make connections, install the Pi and fit it all. The best thing about the project is that it can be customized with the pages that more we like them or add our own RSS reader. Except for having a monitor and a Raspberry, since you have no excuses not to implement this project.
With Raspberry pi you can also build a photo booth
is one of the most fun ideas that you can arrange for a party with friends. The Raspberry Pi is perfect to create a station to take pictures and share them on the Internet. To do this, there are different options. You can create a timer, or opt for a simpler model that creates animated GIFs and goes directly to a page of your choice on Tumblr.