Raspberry Pi challenges the creativity and allows you the opportunity to create a piano that is played with gestures
Technological advances seem to have no end, are every day more novel, amaze the user with new technologies, innovative inventions that in addition to educate, instruct, to facilitate the life of man, it also allows you to create, compose and optimize the quality of life of man in general.
And as playing is also learned, technology, in this case Raspberry Pi,  Allows you to create a piano that is played with only make gestures.
Just thinking about it impresses and captive, at the same time thrilling, especially to the children of the house.
Origins of the project
Andy Grove is the mastermind behind the invention; His ingenuity allowed him to build a board of eight sensors HC-SR04 originally thinking about a project of robotics, but then with only a few lines of code has become a musical instrument that can be played only with gestures, without physically touch the instrument.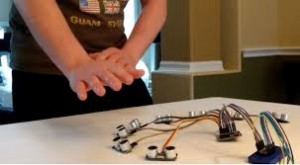 The novel project uses a basic form of gesture control, where the musical instrument can be changed while keeping your hands on the two external sensors for a few seconds. Another gesture that gives movement to the piano is used to turn off the Raspberry Pi once you have finished using the piano
The invention is very novel for children, since it stimulates the motor skills, the intellect, apart that promotes the study of music, especially electronics and instrumentation.
It also has great benefits for people with some kind of disability, because in addition to entertain, is learned.