With your nameplate Rasbperry Pi, you can create the unimaginable, what you want, that is why we offer you two times per week new designs, varied and why not; some that already we have shown it, but you refrozamos knowledge
With Raspberyy Pi, you have a sea of possibilities as far as design is concerned; Today specifically we show you how to install Windows 10 in Rasbperyy Pi; Microsoft is changing the mentality of the past times and note in some of their projects. An example is that they are adopting a more open, releasing the code of any of your software, or even reaching out to developers with projects like this Windows 10 IoT Core that we will analyze and explain how to install it in the Raspberry Pi Raspberry Pi 2 or 3 step by step.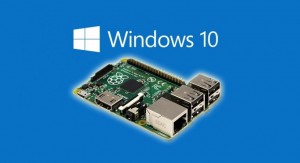 The first thing to do is to talk a little bit about Windows 10 IoT Core, as Microsoft has been called to this system free for SBCs as the Raspberry Pi. It is a operating system oriented to the development of the Internet of Things (IoT), or "Internet of Things", the new era that comes from the hand of IPv6, which brings a lot of IPs in order to carry out the connection to devices and objects that were "disconnected"
It is this orientation toward the IoT which may confuse users who land new and looking to build a PC with Windows 10 batato making use of the Raspberry Pi. Therefore it is necessary to clarify the difference between this edition and the Windows 10 PC. What could be summed up in one sentence to say that with a Raspberry Pi and Windows 10 IoT Core is not going to have a Windows desktop environment 10 in this SBC cheap, but a development environment to perform some of your projects.